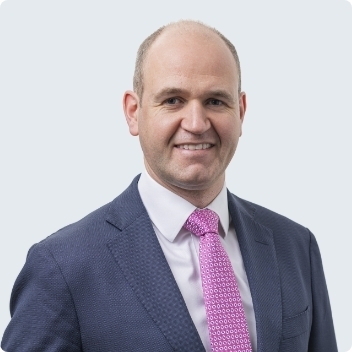 Academic and postgraduate qualifications:
Fellow of the Royal College of Ophthalmologists UK (2015)

Doctor of Medicine (Research) (2015)
Certificate of Completion of Training – Ophthalmology (2016)
Professional memberships:
American Society of Cataract and Refractive Surgeons

International Associate of the Royal Australia and New Zealand College of Ophthalmologists
Professional Friend of Macular Degeneration New Zealand
Dr Oliver Comyn
MD (Res), FRCOphth
Dr Oliver Comyn, who specialises in cataract surgery and retinal disease, joined St George's Eye Care from the United Kingdom. He completed specialist ophthalmology training in London and the South East of England, culminating in a vitreoretinal fellowship at the Sussex Eye Hospital in Brighton. He then was selected for a prestigious vitreoretinal fellowship at the world-renowned Moorfields Eye Hospital in London.
Between 2010 and 2013 Dr Comyn was a postgraduate student at the University College London Institute of Ophthalmology. Working under the supervision of Dr Philip Hykin and gene therapy pioneer Professor James Bainbridge, he carried out two clinical trials investigating the drug ranibizumab for diabetic eye disease. He was awarded the Doctor of Medicine degree in 2015 for his thesis, titled: Clinical Outcomes of Vascular Endothelial Growth Factor Inhibition in Diabetic Eye Disease. Dr Comyn has published widely in the fields of diabetic eye disease and retinal imaging, and delivers presentations at international conferences.
Dr Comyn practises small incision cataract surgery using premium injectable intraocular lens technology, and is particularly interested in managing patients with cataract and co-existing retinal disease. He undertakes small gauge vitreoretinal surgery as day case procedures and aims to minimise the inconvenience and maximise the rehabilitation for patients undergoing retinal surgery.
Oliver has full vocational registration in ophthalmology with the New Zealand Medical Council.
Outside work, Dr Comyn was vice-chair of the Board of Trustees for the Childhood Eye Cancer Trust (CHECT), the UK's leading charity for children and families affected by the rare eye cancer retinoblastoma. He led the scientific advisory committee of the charity and directed funds to novel research into retinoblastoma treatments.
Dr Comyn and his wife Kate enjoy everything that Christchurch has to offer, and are busy introducing their two young daughters to life in New Zealand.

Services:
Comprehensive treatment of eye diseases, including:
Cataract surgery
Medical retinal treatment


age-related macular degeneration, diabetic eye disease, retinal vascular disease

Surgical retinal treatment


retinal detachment, epiretinal membrane, macular hole

Uveitis
General ophthalmology


dry eye, blepharitis, glaucoma