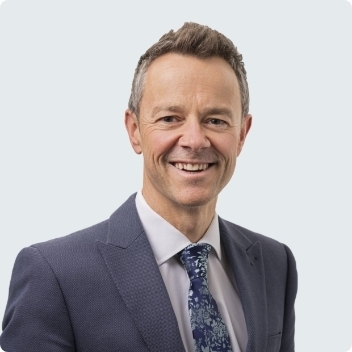 Academic & Postgraduate Qualifications:

Fellow of the Royal College of Ophthalmologists UK (2009)

Certificate of Completion of Training – Ophthalmology (2010)
Professional memberships include:
United Kingdom and Ireland Society of Cataract and Refractive Surgery

British Oculoplastic Surgery Society
British Society for Refractive Surgery
International Associate of the Royal Australia and New Zealand College of Ophthalmologists
Dr Paul Baddeley
MA (Cantab), FRCOphth
Dr Paul Baddeley joined St George's Eye Care after working as a consultant ophthalmologist in the United Kingdom. After studying clinical sciences at Cambridge University and completing his medical training at Oxford University, Paul undertook his Specialist Registrar Training in Ophthalmology in South Wales. He has completed two oculoplastic, lacrimal and orbital fellowships at the University Hospital of Wales (Cardiff) and John Radcliffe Hospital (Oxford). He has gained experience during an Honorary Fellowship in Glaucoma with Professor James Morgan, also at the University Hospital of Wales.
During his consultant post in Worthing and Chichester Paul was clinical leader for the Oculoplastic, Lacrimal and Orbital service as well as being college tutor in charge of surgical training, including cataract surgery.
Paul has a special interest in cataract surgery, using injectable intraocular lens technology as routine. This allows for smaller incision surgery with the associated benefits to his patients of reduced astigmatism and safer procedures. He provides a bespoke service, to give patients the choice of refractive outcomes depending on their individual requirements.
During his work as an ophthalmologist Paul has continued to publish recognised scientific papers as well as presenting at national and international meetings. Topics of publication have included 'Patient's expectations during cataract surgery' and 'The Test of Induced Entropion 2.' Paul is the author of one successful ophthalmic textbook and contributor to another.

Paul has full vocational registration in ophthalmology with the New Zealand Medical Council.
Services:
Comprehensive treatment of eye diseases, including:
Cataract surgery
Glaucoma
Oculoplastic, lacrimal and orbital surgery
General ophthalmology, dry eye and blepharitis